The FooTNiK is a British-style pub.
There is no table-charge with food and drinks being ordered at the bar counter.
Customers are free to find a seat or stand at the bar to consume their drinks and interact with staff and fellow customers.
The pubs are relaxed and friendly with many coming alone to enjoy watching a game or talk football with friends old and new.
The Founder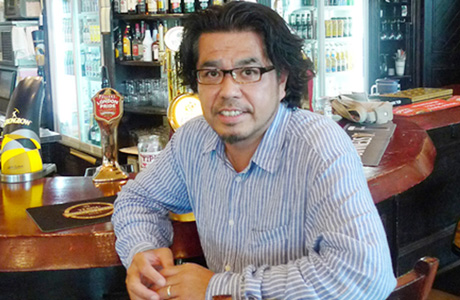 THE FOOTNIK, WHY THE NAME?
This is one of the most common questions we get (second only to "Can I have more beer, please, and some chips?).
The "FooT" part is easy… it's a British Pub! Of course there's football!
"NiK" isn't as obvious. "Nik" is a Russian word meaning "related to", "a companion to", or "a lover of". Famous examples are "Beatniks" (people of the '50s "Beat" Generation), "Refuseniks" (people refused permission to emigrate from the Soviet Union in the '60s), and of course, "Sputnik", the very first satellite which literally translates as "co-traveller".
What can we do at THE FooTNiK?
We've got great beer, food and a great atmosphere to soak up!
Like a local back in the UK, we are at the heart of the community, even one as big as Tokyo! We are a regular spot for post-work chat and catching up on local news. We run fun events you can share with friends. We help our customers raise funds for the charities they support. We have music and promotions and lots of sports including football. And of course, we have a warm welcoming atmosphere.
British pubs are very informal, basically come up to the bar counter, order a drink or some food, find a seat (share a table if those are the only seats available), in fact, why bother with a table? Just stand! It's easier to chat!
Our Mission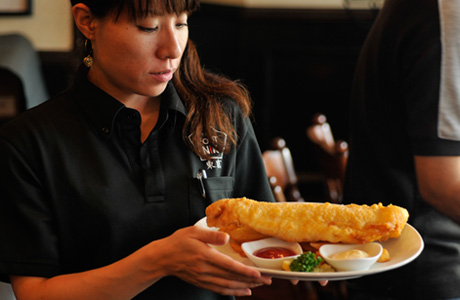 A place where people from all over the world can interact through the language of Football!
In the opening day of the European Championships in England, June 8th 1996, the British pub, THE FooTNiK, was opened in Takadanobaba with this simple goal in mind.
The new (to Japan) idea of football fans gathering around big screens to watch matches was gaining in popularity, but it was in 1998 that the concept really took off, when THE FooTNiK was besieged by the mass media during the first round games of the France World Cup. As a result, our pub became widely known to football fans throughout Japan and to regular travellers to Japan.
In May 1997, the tradition-loaded English FA Cup, accompanied by former Liverpool star Ian Callaghan, was displayed in THE FooTNiK Ebisu as a charity fund-raiser attracting international press, British radio, and dozens of football fans, both Japanese and British. Ever since then, THE FooTNiK has become a popular spot amongst Tokyo's foreign community.
In 2001, we moved to larger premises in Ebisu and in 2007 opened a further pub in Osaki in ThinkPark Building. 2012 has seen us opening a third branch in Nakano by the large Shikinomori Park in Nakano Central Park Building.
THE FooTNiK has built a reputation as a great place to watch football in a convivial atmosphere. Certainly, on big match days, (FA Cup final, World Cup, Japan national team, Olympics, etc.), the pub is bursting with fans from the international community in Japan as well as home-grown Japanese fans. We have an extensive schedule of games and when live matches are shown (especially Saturdays' English Premier League games), foreign and Japanese fans crowd the THE FooTNiK. Our Osaki branch (one stop from Shinagawa on the JR Yamanote Line), has a Futsal (5-a-side) court right on its doorstep, only one minute from the station, and players certainly appreciate a pint on our large outdoor terrace after their games.
The Company
Company name
Footnik Ltd.
Location
Head Office
Tokyo-to, Shinagawa-ku,
Higashi-Shinagawa 3-20-1-507
First Opened
1996/6/8
Company Established
2001/5/17
Managing director
Yuji Imai
Number of employees
48 (Current)
Capital
5,500,000 yen
Annual revenue
318 million yen (year ended December 2015)
Main Financing Banks
Sumitomo Mitsui Banking Corporation
Japan Finance Corporation
Member Organisations
Japan Sports Broadcasting Hospitality Association (JSHA)
Activities
British pub and other F&B
Event planning and running
Travel operation
Merchandising
Highlights
May 1997
England FA cup trophy comes to THE FooTNiK as part of charity world tour
June 2002
BBC has daily live broadcasts from Ebisu branch throughout Korea Japan World Cup
June 2006
NHK broadcasts live from Ebisu branch for pre-game show of Japan's first game during the Germany World Cup
December 2008
"One-Night Sports Bar Sony x FooTNiK" collaborative event with Sony Corporation in Ginza Sony building
May 2009
"Official UEFA Champions League Café" situated in Osaki branch for month-long world-first Sky Perfect JSAT Corporation joint event
December 2012
Osaki branch in live link-up with Sao Paulo and London Bridge pubs for Sony Corporation "VAMOS VIEWING" event of FIFA Club World Cup final round
E-mail contact
ask@footnik.com
Employment
[expand title="LIVE!! UCL FINAL JUVENTUS V REAL MADRID"]
If you wish to guarantee your seat for the UEFA Champions League Final LIVE Juventus v Real Madrid game then you can do so by booking a "Promise Seat".

Current Promise Seat availability is as follows:

Ebisu: Sold Out.
Osaki: Sold Out.

☆ There is no need to reserve for standing areas, just turn up and enjoy the game.
* Entrance fee 2000 yen (Incl. 1 drink)

THE FooTNiK[/expand]
SUN JUN 4TH
[expand title="EMPLOYMENT"]
Bar Staff Wanted

Friendly hard-working part-time staff wanted for THE FooTNiK EBISU and THE FooTNiK OSAKI.
Evenings and Weekends and some Late Shifts (finishing around 1.30 am so living locally preferred)

Salary: From 1,000 yen per hour.
Transportation costs reimbursed up to 800 yen per day (max: 10,000 yen per month).

Further details on Application.

Send resume to ask@footnik.net or post to:
Footnik Co. Ltd. Asahi Bldg 1F 1-11-2 Ebisu, Shibuya-Ku Tokyo. 150-0013

THE FooTNiK[/expand]
SAT MAY 20TH
[expand title=""RAKUGO" COMEDY PERFORMED IN ENGLISH!"]
Monday 3rd April

Come to THE FooTNiK EBISU for a rare opportunity to see
Comic Storytelling performed in English by Shinoharu Tatekawa.
ON APR 3RD
One performer… a whole host of characters!
Comic Storytelling with a 400-year tradition…
Sit-up Comedy!

19:00 Open
20:00 Performance Begins
21:15 Performance Ends

2000 yen incl. one drink

THE FooTNiK[/expand]
MON APR 3RD
[expand title="SUPER BOWL LI - LIVE!!"]
Monday 6th February open from 8.00 am
SUPER BOWL 51
Kick-off: 08:30 am
New England Patriots vs. Atlanta Falcons

Showing LIVE in all branches: Osaki, Ebisu
Entrance charge: 1,500 yen (incl. one drink)
Food menu is available

◆ To guarantee you get a seat, book a "Promise Seat"! ◆
☆ One person: 3000 yen (incl. 2 drinks)
☆ Promise Seat availability by branch: Osaki 60 seats; Ebisu 34 seats

To book a Promise Seat please CLICK HERE
(This is a popular event so we recommend early booking.)

Come to THE FooTNiK to enjoy this once-a-year Super Event!
We look forward to your visit!

THE FooTNiK[/expand]
MON FEB 6TH
[expand title="HAPPY NEW YEAR 2017!!"]
Our best wishes to all our customers!
And we look forward to serving you in 2017.

THE FooTNiK[/expand]
SUN JAN 1ST
[expand title="COUNTDOWN 2017!! @ EBISU"]
Come to THE FooTNiK EBISU for our countdown to the new year!

Join us for two special Happy Hours!
17:00 - 19:00 &
23:30 - Close

☆ With free Sparkling Wine for the Countdown Kampai!!

We are looking forward to welcoming in the New Year with you!

THE FooTNiK[/expand]
SAT DEC 31ST
[expand title="NEW YEAR OPENING HOURS"]
Ebisu Branch
~12/30 (Fri) Usual opening hours
12/31 (Sat) Open from 5PM *Countdown to 2016!
1/1 (Sun) ~ 1/5(Thu) Closed
1/6 (Fri) ~ Usual opening hours

Osaki Branch
~12/29 (Thu) Usual opening hours
12/30 (Fri) ~ 1/3 (Tue) Closed
1/4 (Wed) ~ Usual business hours

THE FooTNiK[/expand]
THU DEC 15TH
[expand title="NAKANO BRANCH TO CLOSE."]
We regret to announce that, after four years in this location, the Nakano branch of THE FooTNiK is closing.
The final day will be Sunday 27th November.

Thank you for your custom and support over these last four years and in appreciation of this please enjoy a 3-day Happy Hour!
Friday 25th, Saturday 26th, Sunday 27th drinks will be at Happy Hour prices.

We look forward to your visit.

THE FooTNiK[/expand]
SUN NOV 27TH
[expand title="OSAKI – 9TH ANNIVERSARY CELEBRATION – TUE 25TH OCTOBER!"]
THE FooTNiK OSAKI is celebrating nine years in Osaki!

Thank you to all our customers for your patronage, support and friendship since we opened.

We hope you will join us for
"ONE COIN" 500-yen drinks* on Tuesday 25th October, 3pm till closing!
(*with a few exclusions)

Our staff are looking forward to seeing you there!

THE FooTNiK OSAKI
[/expand]
TUE OCT 25TH
[expand title="EBISU – 15TH ANNIVERSARY CELEBRATION - WED 28TH SEPTEMBER!"]
Come to THE FooTNiK EBISU on Wednesday 28th September and help us celebrate 15 years in EBISU!!
As a thank you for your custom, friendship and support…
It's "ONE COIN" 500-yen drinks all night!! *
(*with a few exclusions)

We look forward to seeing you there!

THE FooTNiK EBISU
[/expand]
WED SEP 28TH
[expand title=" 20TH ANNIVERSARY OF THE FOOTNIK"]
On Wednesday June 8th, THE FooTNiK will celebrate its 20th Anniversary.

We would like to thank all our customers for the support and kindness shown
to us during these 20 years.

On Wednesday June 8th, our three branches, Nakano, Osaki and Ebisu, will
have ONE-COIN drinks (500yen) ALL-DAY!

Also, there are other events and offers to help the celebration.

Please see HERE for further information.

We are looking forward to your visit!

Yuji Imai
President

THE FooTNiK[/expand]
WED JUN 8TH
[expand title="DONATING TO RED CROSS JAPAN - KUMAMOTO EARTHQUAKE"]
Red Cross Japan is working at the forefront of Kumamoto earthquake emergency response efforts.
If you would like to donate money in support of their work, you can find donation cups in each of our FooTNiK branches.
All money will go to Red Cross Japan.

Thank you

THE FooTNiK[/expand]
MON APR 18TH
THE FOOTNIK EBISU
Address
Asahi Bldg 1F
1-11-2 Ebisu, Shibuya-Ku
Tokyo. 150-0013
TEL: 03-5795-0144Opening Times
3pm – 1am [Every Day]Opening times may vary with live match schedules.
THE FOOTNIK OSAKI
Address
ThinkPark Bldg 1F
2-1-1 Osaki, Shinagawa-Ku
Tokyo. 141-6001
TEL: 03-5759-1044Opening Times
11am – 1am [Every day]Opening times may vary with live match schedules.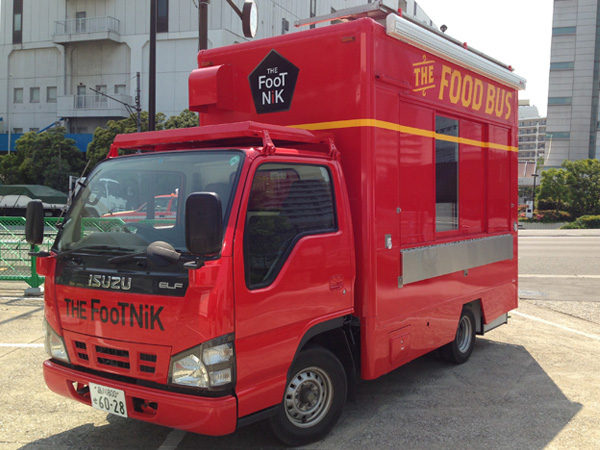 THE FOOD BUS
Since 2015, two Food Trucks serve Britain's famous Fish & Chips and Japan's first 'sold-outdoors' Guinness along with other items at J-League Stadiums, Festivals and other events.
NEWS & EVENTS
[table "5" not found /]